REVIEW
Long Beach Chorale and Chamber Orchestra, Long Beach
JIM RUGGIRELLO
Joseph Haydn
's
Mass in Time of War (Missa in tempore belli Hob. XXII/9)
is the second of the six glorious mass settings (altogether he wrote 14) composed by the master late in his long life. Though Haydn by now lived in Vienna, he still worked part time for the wealthy
Esterhazy
family, who resided at their palace in Eisenstadt, and one of his duties was to compose a mass every year for the Princess Maria Hermengild's name-day.
Joseph Haydn in 1791.
The title of this one, written in 1796, was bestowed by Haydn himself on the title page and alludes to a time when Austria and France were at war, and Vienna was in a state of high anxiety; Napoleon's army was on the march. The drums of war pound menacingly in the Agnus Dei, and the solo timpani strokes inspired this work's other sobriquet, the Paukenmesse; pauken is the German word for timpani. Even the Dona nobis pacem, with its drums and trumpet flourishes, has a militaristic air. One suspects that for the Austrians, "peace" meant defeating the French in battle. Alas, it was not to be; Napoleon occupied Vienna, but showed his artistic sensibilities by posting an honor guard around Haydn's house.
Elsewhere, the mood of the piece shifts from joy to hope to despair, as the music itself shows the complete mastery of choral, solo, and instrumental writing Haydn had achieved by this stage of his career, which also saw the composition of his choral/orchestral masterwork, The Creation.
The Long Beach Chorale and Chamber Orchestra,
now in its 30th year, has been under the direction of
Eliza Rubenstein
for half that time. Rubenstein, who teaches at Orange Coast College, has molded this amateur ensemble into a marvelous performing instrument. Their sound is ideal for late Classical music: transparent, beautiful, with a blend and balance that are the envy of area professional ensembles. In addition, they sing with a joy in music-making that is palpable, and infectious.
Their performance of this Haydn Mass, on a pleasant Sunday afternoon at Grace First Presbyterian Church in Long Beach, reflected the group's virtues. They had power aplenty for the forte passages, while being able to scale down to a hushed pianissimo without losing tonal quality. And although the personnel changes from concert to concert, the Chamber Orchestra draws from a regular pool of musicians. In Southern California, that means playing of the highest quality, and under Rubenstein's firm yet flexible baton, the result is a tight, wonderfully expressive ensemble.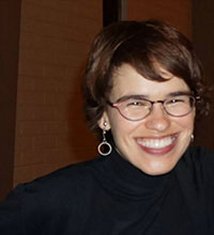 Eliza Rubenstein.
Soprano Marlissa Hudson has a bright, light soprano that suits this music well, and she sang the many ornamental roulades in her part impeccably. Alexandra Rupp's warm, clear mezzo was very pleasing to the ear. David Stoneman, a frequent Chorale guest, possesses a plummy bass-baritone that dominated the quartet passages, although he sang his solos smoothly enough. Personally, I found tenor Daniel Morales' reedy tone unattractive, but he sang with assurance.
Augusta Read Thomas.
Cannily, Rubenstein filled out the hour-long concert with two complementary works that did not take rehearsal time away from her chorus. Hudson began with
Plea for Peace,
a wordless vocalise over string quartet composed in 2017 by
Augusta Read Thomas
. The piece was commissioned for the 75th anniversary of Chicago Pile-1, the first artificial nuclear reactor. Although since dismantled, the reactor, and Thomas' music, serve to enable contemplation of humankind's capacity for innovation and creation as well as total destruction. The background, given in the excellent program notes and Rubenstein's spoken introduction, makes the work evocative and moving. Sometimes words aren't
necessary.
August Jaeger.
Finally came a short work for the orchestra alone, the
Elegy, Op. 58
by Sir Edward Elgar. The piece was written at the death of Elgar's close friend, champion, and publisher
August Jaeger,
characterized as "Nimrod" in the composer's
Enigma Variations, Op. 36.
There was nothing here of contemporary significance, seemingly, but then we read in the program notes that the Chorale had dedicated this performance to victims of the recent Christchurch massacre and other terrorist acts. In any event, the orchestra played beautifully.
This concert was played to a full house on the afternoon I attended, and deservedly so. Long Beach Chorale and Chamber Orchestra delivered their usual product, intelligently programmed and exquisitely performed. And in June, they take this show on the road to Carnegie Hall.
Long Beach Chorale and Chamber Orchestra, Grace First Presbyterian Church, Long Beach, 4:00 p.m., Sunday, March 24, 2019.